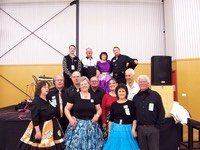 Chris has been dancing with Pine City Twirlers for more than 90% of their now 34 years and was soon to move to Naracoorte to be with future husband Alan Hall.  Alan had started dancing with Pine City Twirlers during 2005 but found it difficult to commit regularly due to his work  commitments. 
On 1st July 2006 an audience participation night was held in Williamson Hall at the Naracoorte High School, as a couple of others had been in years prior as well at other venues around Naracoorte. An expression of interest form was muted to gauge local interest in starting regular square dancing in Naracoorte. 
Reg and Ginni Steele from Pine City Twirlers were not able to host  that night, so their son Evan ran the event. 
On the night there were 23 interested people step forward. One couple participating made an offer of a regular dance venue. We still use this venue now 11 years on with 10 to 12 regular dancers. 
Reg and Ginni had already offered records to get us started. During the week following this audience participation night, Reg heard of our success and put forward the notion that there was a music system at the Uniting Church Fair being held in Mt Gambier  the following weekend.  Reg knew this system was complete with turntable, amplifier and speakers.  He would see how much they wanted for it. So very soon thereafter we were the proud owner of a $50 sound system. Ginni  scanned  through the records and presented us with a few to begin with. So away we went with our first club dance on Friday 25th August 2006. 
We were up and running with Chris'  knowledge and experience. Instruction provided by Chris together with learning tapes by Nev McLaughlin, and music mistro Alan, away we went.
Our 1st birthday was a private in house event.
Our 2nd birthday was a quiet joint event with Pine City Twirlers and special surprise visit from John and Jan Hannaford representing the SA Square Dance Society. 
Our 3rd birthday we decided we were more confident and advertised further afield.  It was this year that Darren Taylor called for us and has continued to do so for a number of years at our birthday events.
We danced for approx 4 years under the guise of Pine City Twirlers Naracoorte until we decided that we were strong enough to stand on our own feet.  Some research was done, insurance was arranged, our constitution formed, APRA licence obtained and membership set. 
In 2017 we are now in our 11th year and God willing will be here for  many more to come.