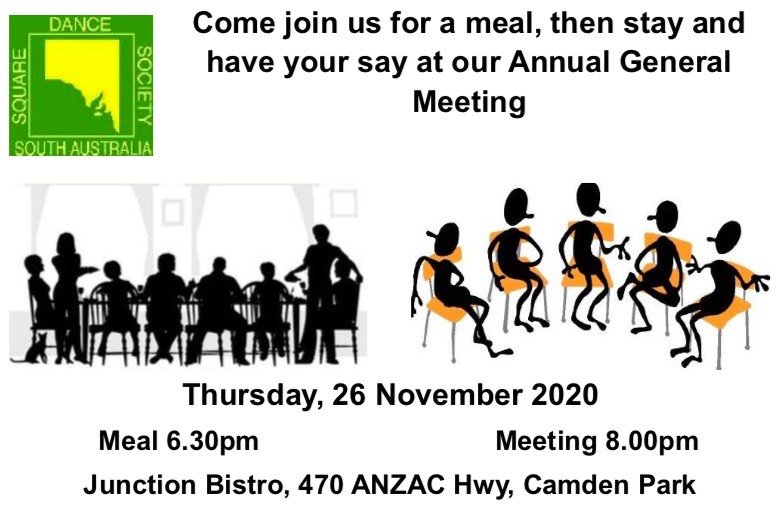 ** COVID-19 UPDATE 03/09/2020 **



A number of clubs are now open or have set a date for re-opening.
Please refer to the information below.

We will update the information on this page when we receive re-opening dates from other clubs.
You can also check your club's website or facebook page if there is one.
South Australian Square Dance Diary
Adelaide Metropolitan Area
Mon

Adelaide Outlaws
Graham Elliott
08 8353 1749

Visit the club website or facebook page for the latest hall information

Tue

Kannella Squares
Jeff Seidel
08 8263 5023

Morialta Uniting Church Hall
26 Chapel St, Magill
Show map

6pm C Level
7pm A Level
8pm Plus
Website

Sunset Twirlers
Les Tulloch
0484 233 826

Arts Centre
22 Gawler St, Port Noarlunga
Show map

7pm Learners
8pm Mainstream
Website

Wed

Adelaide Outlaws
Graham Elliott
08 8353 1749

Kilburn Community Centre
Le Hunte St, Kilburn
Show map

8pm Plus
Note: Closed 2nd Wednesday of month
Website Facebook

Thu

Diggers Delights
Scotty Scott
0419 864 748

Salisbury RSL
19 Park Tce, Salisbury
Show map

10am Learners/Mainstream


Sunset Twirlers
Les Tulloch
0484 233 826

Arts Centre
22 Gawler St, Port Noarlunga
Show map

8pm Plus
Note: Closed last Thursday of month
Website

Fri

Wild Frontier
Jeff Seidel
08 8263 5023

Morialta Uniting Church Hall
26 Chapel St, Magill
Show map

7pm Learners
8pm Mainstream
Website

Scoot Back Squares
Ian Rutter
Ph Gill 0408 964 466

Evanston Gardens Community Centre
65 Angle Vale Road, Evanston Gardens
Show map

7.30pm Mainstream
Country Area

Mon

Pine City Twirlers
Trevor Raftery
0438 420 615

Anglican Hall
Bay Rd, Mt Gambier
Show map

7.30pm Mainstream
Dance to records
Please Note: Dances are suspended until further notice

Whyalla Twirlers
Shirley Gabb
0423 516 716

Lutheran Church Hall
Lewthwaite St
Whyalla Norrie
Show map

7pm Learners/Mainstream
Please Note: Closed until further notice

Tue

JVC Square Dance
John V Casey
0400 611 211

Victor Harbor Senior Citizens Club Inc.
Carrickalinga House,
17-19 Torrens Street,
Victor Harbor 5211
Show map

1.30pm Learners/Mainstream
Please Note: Our weekly dances have been suspended until further notice
Website

Yorke Promenaders
Scotty Scott
0419 864 748 or
08 8821 3582

Church of Christ Hall
9 Taylor Street
Kadina 5554
Show map

7.30pm Learners/Mainstream
Website

Thu

Allabout Squares
Andrea Braun
0417 509 144

Mt GambierCurrently in recess

Fri

Pine City Twirlers
Trevor Raftery
0438 420 615

Anglican Hall
Bay Rd, Mt Gambier
Show map

7.30pm Learners and Mainstream
Dance to records
Please Note: Dances are suspended until further notice

Acey Squares
Alan & Chris Hall
0417 820 134
0410 057 955

Lutheran Church Hall
Magarey Cres, Naracoorte
Show map

7.30pm Mainstream
Dance to CDs
Please Note: Our weekly dances have been suspended - we will advise when we will be restarting

Paddle Steamers
08 8552 3879

Carrickalinga House,
17 Torrens Street,
Victor Harbor 5211
Show map

7pm Mainstream
Guest Callers
If any of the information about your club is incorrect, click here to let us know


South Australian Round Dance Diary
Adelaide Metropolitan Area

Sun

T & T Rounds
Thelma McCue
08 8261 8128

Chandelier Ballroom
Cassie St, Collinswood
Show map

12 to 2pm Phase 2 to 4
2.30 to 4.30 Learners/Phase 2 to 3

Sunset Twirlers
Les & Anne Tulloch
0484 233 826

Cooinda Neighbourhood Centre, cnr Diagonal and Sturt Roads
(Behind Marion Council Offices)
Show map

7pm Phase 2 to 4
Website

Wed

Sunset Twirlers
Les & Anne Tulloch
0484 233 826

Cooinda Neighbourhood Centre, cnr Diagonal and Sturt Roads
(Behind Marion Council Offices)
Show map

7pm Phase 4+ to 6
Website

Fri

T & T Rounds
Thelma McCue
08 8261 8128

Chandelier Ballroom
Cassie St, Collinswood
Show map

7.30pm Phase 4 to 5
If any of the information about your club is incorrect, click here to let us know
Click here to view or download the SASDS Membership Form for 2019-2020