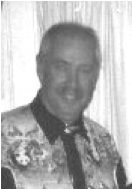 If I was to sum up the history of square dance caller Milton McKenzie in very little detail, I would say he is fun, entertaining, and a great showman. However, if I go into detail I would start in 2005, when he first started dancing and really got hooked.
He learned with Graham Elliott and later started dancing at his second club simultaneously with Jeff Seidel. He developed an interest in calling even before he had graduated the mainstream level, and under the watchful eye of the late Clive Bates, he called for the first time to The Weavers square dance club. His first national was in Gossford in 2006 (three weeks after he graduated) and has since been to every national since.
His calling career progressed as he began to call on a regular basis at the Adelaide Outlaws in 2007, and the occasional call at other clubs and events. Milton joined SACA in March 2010, and had his first call at a society event in May 2010.
Back in 2009 Milton was asked to visit the newly formed Paddle Steamer Squares dance club in Goolwa where he was offered a call, and became the caller for the club, giving his Friday nights a whole new spin.
In April 2012 Milton started his own club "Fortune Eights", dancing on a Wednesday evening in Victor Harbor.