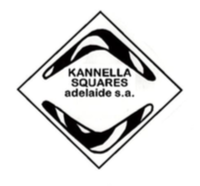 Kannella Squares History

Kannella Squares commenced back in 1975 in October in the Kensington Park Uniting Church Hall on a Sunday evening. Although we are the oldest Plus Club in the country the Plus program was not officially a program. When the Plus program was officially put in place there were two parts, Plus 1 and Plus 2 and I still have the CallerLab booklets showing these separate levels. Before that we danced movements such as "Walk the Plank", "Shuffle the Deck", "Spin Chain the Gears" (Still there today) "Dixie Derby", "Spin the Bobbin' and a lot more. Back then I also had to wait until another caller gave up his night before I was allowed to open.
Kannella comes from an aboriginal word meaning "to dance" and was an idea from one of the dancers. Kannella progressed to "Advanced" back in the early 80's and then a small number of people wanted to dance "Challenge". We are now dancing all the three programmes. Back then I was calling four nights a week catering for Learners, Mainstream, Plus, Advanced/Challenge, including an extra night for One Night Shows.