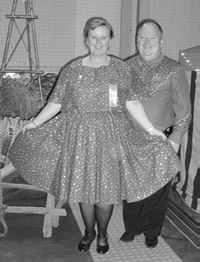 Sunset Twirlers Dance Club was founded by Anne and Les Tulloch. We commenced with classes in Square Dancing on 4 May 1995 and Round Dancing on 6 May 1995.
Our first venue was the scout hall in Anderson Street, Glenelg North. It was this initial location from which the club name was derived based on the picturesque sunsets often seen over the gulf hence 'Sunset Twirlers'. The club badge depicts the a dancing couple in silhouette to the setting sun. The club colours blue, orange and yellow represent the various elements involved in the sunset with blue for sky and sea, orange for the setting sun and yellow for the beach. In each corner are an entwined square and circle representing both square and round dancing.
Both classes progressed for about 5 months, until we were approached to integrate our square dancing with an existing group of dancers at Cooinda Recreation Centre (behind Marion Council). This gave us the opportunity to accelerate the learning for our beginners and we graduated approximately 2 sets in December 1995.
We continued to run square dances at Cooinda (including plus from 1998 to 2003). Then in 2007 when Les was approached to conduct a new learners group further south. We found a wonderful venue in the Port Noarlunga Arts Centre and such was the success of the group that we relocated the square dancing and continue to dance 2 nights a week at that venue (Learners & Mainstream).
The Round dance class continued to dance at at Glenelg into 1996, when we relocated the group to another Scout Hall at Cowandilla. Then in 1998 the Cooinda centre became available and we took the opportunity to move to the better facility. The Round Dance group continue to dance at Cooinda and now dance various rhythms up to phase 6.
For more information on the club and our current dance program go to www.sunsettwirlers.com