Raffle Results (drawn 30/08/2014 at the 39th South Australian State Convention)
1st Prize Handmade Quilt – Ticket No: 191
2nd Prize Table Runner – Ticket No: 095
3rd Prize National Convention Ticket 2015 – Ticket No: 143
4th Prize Cushions – Ticket No: 032
5th Prize Silver Cutlery Set – Ticket No: 445
6th Prize Wood Carving Adelaide Bridge – Ticket No:168
Here are the raffle prizes to be won at the 39th South Australian State Convention, which will be held on Friday 29th August and Saturday 30th August 2014. See the flyer here.
Quilt, table runner and cushions made and donated by Jacqueline Baumgartner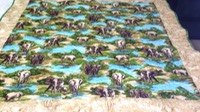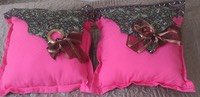 Single registration for next year's National Convention to be held in Adelaide, donated by the committee of the 56th Australian National Square Dance Convention. See the convention website here.
24 piece cutlery set donated by Hazel and Ken Murray