Tribute to Colin Andrew Huddleston — By Jeff Seidel
Colin Huddleston was born in Broken Hill on the 1st May 1914 & would have turned 100 this year. Colin was Australia's most well known caller, due to the fact he was on the very popular Reg Lindsay's Television country music show for many years.
Colin was a founding member of S.A. Callers Association & the S.A. Square Dance Society Inc. & was a Life Member of both organizations. Colin also had his hand print laid in concrete in Tamworth for his contribution to Square Dancing & Country Music in Australia. His square dance equipment is also on show in the museum for country music in Tamworth for all to see.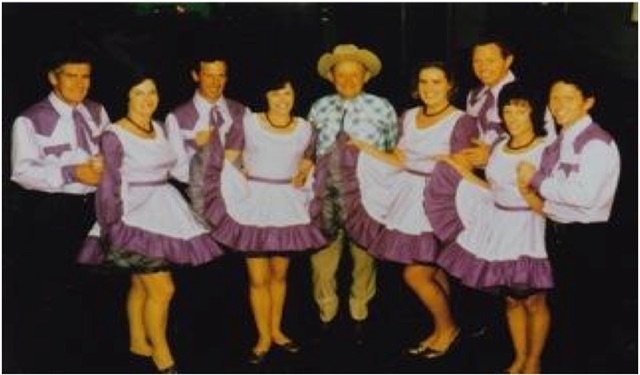 One of Colin's sets that performed on the Reg Lindsay show: From Left to Right: Kevin & Dulcie Matthews, Peter & Lyn Cram, Colin Huddleston, Barbara & Derek Cliff, Val & Don Muldowney.
Colin & Sophie had a very friendly club & Wild Frontier often exchanged evenings together. We even had one when Channel 9 came along to film the evening. Colin's hall was adjacent to the Glenelg Fire Station & during the course of the night the fire bells sounded. All the dancers evacuated & left Colin calling away to an empty hall; he never missed a beat!
Wild Frontier held a surprise birthday party for Colin's 69th birthday. Graeme Whiteley (TAS), Steve Turner (WA), Wally Cook & David Hooper (Vic) were just some of the callers that joined the party. We had around 350 dancers & friends attending this party in our old hall at Kensington Park just opposite the Chelsea Theatre.
People still relate to Colin when making comments about square dancing & whether or not it's still going. Colin was a great friend; Susan & I were with him the night he died which was a very sad occasion for square dancing in Australia.


---
MEMORIES OF COLIN HUDDLESTON — From Dulcie Matthews.
Kevin and I first started square dancing in 1953, at Port Adelaide. At supper time we would place a rug on the dance floor and have pikelets (I made), coffee, sandwiches cakes etc.... we always ended the evening with the LAST WALTZ.
We then joined a square dance club at the Palais in the city and danced up to 300 with a band. The callers varied some came from interstate including Jim Vickers Wills from Victoria. From this Colin Huddleston formed his own club, which we then joined. Colin hosted a club at Gordon Street, Glenelg every Friday night. Beginners started at 7.30pm and Advanced dancers at 8.30pm. Colin's wife, Sophie would sit at the door and take the entrance money. In the cold of winter she would have a rug on her lap to keep warm and always had a huge lolly jar close by for all to share. The entrance money included complimentary tea and biscuits during supper time. The regular dancers started to bring their own basket suppers and at supper time the teenage dancers would walk a short distance to the fish & chip shop to buy hot chips.
Colin was then asked to bring a square dance set to Channel 9 located at Tynte Street North Adelaide. This is where he joined Roger Cardwell in the weekly time slot. Later Reg Lindsay took over from Roger Cardwell and a full live band was featured. The show ran for more than 7 successful years the band included such members as:
Norm Koch on Banjo
John Crossing on Piano
John Hall on rhythm guitar
Bob Cunningham - singer
Brian Smith on drums
Trevor & Dennis Warner on guitars/steel guitars
John Birmingham on bass
Jill Freeman/Wills sisters (including Anne Wills) were featured singers.
Then Colin organised to take the band on the road to country towns (e.g. Kimba) with a set of dancers. This was a huge success!! We entertained in footy clubs and various halls and the grateful hosts always put on a "Very Special "supper for the entire group. These nights were a great success so Colin, Sophie, Kevin and I travelled to more country towns teaching vim and I. Colin would get the crowd up with the support of Kevin and me. He really was the best teacher and could always enthusiastically get the crowd up and dancing on their first night usually to the tune of "Oh Johnny, Oh Johnny". One time at one of these events they had a chocolate wheel to raise money for the footy club. The winning number was #17 and the prize was a dressed suckling pig. Unfortunately I had ticket #16. The next morning we were invited to a delicious country style brunch at a local farm. When we were leaving, to my surprise, they presented me with my own dressed suckling pig, which I shared with Sophie. This is just one example of the wonderful country hospitality shown to us every time we visited country South Australia, with Colin. I always made sandwiches to eat during the long drive. Colin's favourites were my home made pickled onions on fresh bread with butter.
Colin was a happy and endearing character with an eye for the ladies - this led to his nick name of Colin "CUDDLES Huddleston". Kevin and I frequently recalled those "good old" days with much fondest and happiness.
Thanks to Dulcie Matthews for her memories of Colin. Graeme Whitely has also sent me his memories of Colin & I will pass them on later - Jeff Seidel
May 2014


---
COLIN HUDDLESTON—By his daughter Joan and her husband Ollie Clark
"SA's Mr Square Dance", "Cuddles", "Caller Col", "Square Dance Calling Legend"
Early Days
Colin was born on 1st May 1914 at Whyalla, just 15 days after the official name change from Hummock Hill. He was the third of four children born to Oscar William and Susan Isobel Huddleston (nee Rankin). The family lived in Iron Knob. His mother died in 1924 and his father died two years later.
He moved to Eurelia where he was cared for by his grandparents and where he soon developed a reputation as a fine young sportsman, playing cricket, football and tennis in the town and for the town. He received his Qualifying Certificate at age 13 and immediately left school to work on a number of farms in and around Eurelia.
In his late teens he moved further north where he worked on Beltana Station and later patrolled the dog-proof fence separating Beltana Station, Myrtle Springs and Ediacara. Maintaining the fence required the use of a five camel team to carry posts, netting, camping gear, implements and tools.
His "home" was a small hut at a point along the fence, miles from anywhere. His and his colleagues' huts were separated by long distances and they were permitted to spend a long weekend together at the homestead just once a month. A fairly lonely life for quite a number of years.
To quote Colin..."Although at times it was a very lonely life, and at times I would not see another person for a month, I enjoyed my life in the bush, and no better friend could a man have than a real "bushy". Those were the days when you shared your damper and anything else you had with a swaggy or any other unfortunate person you came across, carrying their swags and trying to find work. And they were also the days when friendships were formed and people trusted and helped each other survive drought and the Great Depression"
"During my stay on the Station I used to listen to as much country music as I could get in my little crystal wireless and if any country singers or entertainers came up north it was nothing to get on a camel and ride many miles to attend such an event, and even to dances that may be held anywhere within a radius of 30 miles. You would be surprised how much ground a camel can cover within a few hours."
Colin left station life in the early thirties to join a railway gang on the Adelaide – Alice Springs railway line, fettling and generally keeping the line operable. The gang would often have to be out for many hours, at all hours, day and night, shovelling sand off the line to enable the "Ghan" train through to Alice Springs and/or Adelaide. The gang had to regularly inspect bridges and culverts and occasionally floods washed the line away completely.
Settling Down
He left the far north in 1936 and moved to Adelaide where he married long-time girlfriend Sophie Kaerger, who was also from Eurelia. He started work with GMH at Woodville. After applying, unsuccessfully, to join the Army, the Navy and the Air Force, he took a position at the Islington Railway Workshops which manufactured equipment for all three. He was issued a National Service Certificate in 1940 classifying him as "serving in a reserved occupation for defence purposes". Post war he joined the E&WS Department serving as a storeman until retirement.
Colin and Sophie initially lived in Alberton, bringing, Joan, Merrilyn and Barry into the world, moving to Ferryden Park in 1951.
Getting Into Square Dancing
Colin spent a few weeks laid up in the Royal Adelaide Hospital in 1953 recovering from a duodenal ulcer. At that time square dancing was becoming popular in South Australia and the outstanding Victorian square dance Caller, Jim Vickers-Willis, was attracting crowds at the Palais Royal in North Terrace, opposite the RAH.
He had become interested in square dancing and formed the view that it was the most friendly form of dance in the world; it was family oriented and was not subject to the "generation gap". Teenagers regularly danced within sets with age groups in their fifties and sixties, and he visualised complete families becoming interested – and that's just what happened.
While lying in his hospital bed, the sounds of Jim Vickers-Willis and happy square dancers enjoying themselves "turned him on". Following his release from hospital he gathered seven friends and joined an established club, participating in a contest which his "set" won and was featured on the front page of The Advertiser! Shortly after he decided that he had what it would take to become a caller and in August 1953 he started his own club. It grew rapidly and soon became the leading club in Adelaide and surrounds.
Hitting the Big Time
The advent of television in the late fifties opened a new chapter in Colin's life. He and his square dancers became a regular part of what became Reg Lindsay's Country and Western Hour, which went national and was even shown overseas. The program ran for almost nine years during which Colin and his sets made around 500 appearances.
It led to Colin and Reg becoming very close friends, touring Australia on numerous occasions, performing for large audiences in regional cities and in outback areas. They performed to huge audiences in Fiji on one memorable trip.
Colin was particularly thrilled by being given the opportunity to take square dancing to several aboriginal communities, including a most memorable visit to Arnhem Land to teach 200+ aboriginal school children the routines.
During the years Colin estimates he'd designed and sung square dance routines to at least 1000 country music tunes and had taught somewhere between 25,000 and 30,000 people the art of square dancing.
Slowing Down
In later life Colin withdrew from running his own Club but spent much time calling to and teaching any groups wishing to learn and/or improve their square dancing skills. He taught for several church groups, at schools, birthday parties and more.
Also, in later life, he pondered on the whereabouts of the thousands of people who had made square dancing a big part of their entire lives. He formed the view that in square dancing there are more and more steps and movements to learn and to quote him ...."possibly after dancing for a life time you still have not finished learning, and the majority of people do not want to have to keep on going every week to learn some new movement. You don't have to do this in old-time dancing or in discos or in rock".
Stand Out Memories
pre camels, he had to drive a 32 donkey train on Beltana Station to cart wood.
his experiences as a cook for a mustering camp
teaching his grandchildren to fish (from a jetty....he was prone to sea sickness!)
big game fishing (he eventually outgrew his acute sea sickness affliction).
buffalo hunting in the NT. He was uncanny as a marksman!
his daughters and his son accompanying him on piano.
a day at the races or a night at the trots
five Australia-wide tours with Reg Lindsay
being part of the wider square dance community
The End of an Era......
Colin passed away on 6th July 1988 at the Flinders Medical Centre, aged 74, as a result of a heart attack.


---
A DAY AT THE "COUNTRY MUSIC HALL OF FAME" MUSEUM — By Joan Clark (nee Huddleston)
In April last year my husband, Ollie, and I spent a very enjoyable evening with Jeff Seidel and his enthusiastic followers at the "Wild Frontier" square dance club, renewing friendships and reporting on our earlier, late February, visit to the "Country Music Hall of Fame" museum in Tamworth. At Jeff's request, a summary, albeit late, follows.
As Jeff recorded in his April 2014 "Tribute to Colin Huddleston", on the Club's website, on moving to Adelaide he was helped as a trainee caller by my dad and by Allan Frost.
As Colin's older daughter, I had been planning on visiting the museum for around 30 years! Ollie had an appointment in Newcastle and we thought it was a great opportunity to visit Tamworth, thinking it was a mere stone's throw away. What a surprise! Three and a half hours by road, but worth every minute of it!
The museum was marvellous. The City of Tamworth had made the building, which had previously housed the City's information centre, available a few years ago, and it was ideal for the purpose; well located and the floor plan, fittingly, guitar shaped.
About a dozen dedicated volunteers operate the museum, led by the talented and passionate Judy Loffel. Many items are on display from musical instruments and clothing used/worn by the legends of Australian country music through to sound equipment, music charts, records, many photographs and more. The display is changed regularly using the many items securely stored and meticulously documented and maintained in the back rooms.
There were a few items which had belonged to dad and one of our reasons for visiting was to present a framed picture of him which Judy was delighted to accept. It was actually a replica of the cover of an LP record titled "Learn to Square Dance" (Nationwide NLP 040). It's a great photo of my irrepressible father and has a plaque affixed, stating "Colin Huddleston, 1914-1988, World's Greatest Caller". Such Modesty!
Judy asked whether there were other items I might be able to locate and I have since forwarded dad's brown hat that Jeff presented to me during our visit to the Wild Frontier club along with one of dad's favourite check shirts, a belt and a lanyard I came across subsequently.
I spent some time trying to find the light grey hat dad had made famous during his many appearances on the TV Country & Western Hour, first with Roger Cardwell and for years with Reg Lindsay. But I finally recalled it accompanied him to the grave!
Ollie and I were also able to visit the City Park, where many country music celebrities' handprints in cement are on display and I have a photograph to prove dad was one of them!
I'm proud and grateful that Colin, my dad, is remembered amongst the all time greats of Australian country music, dating back many decades. I would recommend a visit to the Tamworth Country Music Hall of Fame to all country music "tragics".
We enjoyed our visit immensely and it was a pleasure to recount aspects of it to the friendly members of Jeff's Wild Frontier club.
Joan Clark, nee Huddleston, October 2017